Inventive vegetarian dishes & classic cocktails presented in stylish, airy surrounds.
✔️ Dine-in ✔️ No takeout ✔️ No delivery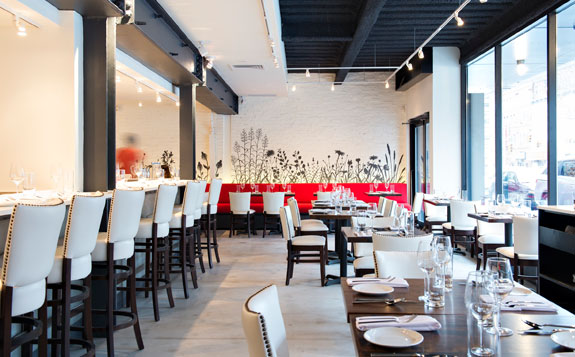 Hours
| | |
| --- | --- |
| Tuesday | 5:30–10:30PM |
| Wednesday | 5:30–10:30PM |
| Thursday | 5:30–10:30PM |
| Friday | 5:30–10:30PM |
| Saturday | 5:30–10:30PM |
| Sunday | Closed |
| Monday | Closed |
Menu
Order and Reservations
Reservations: resy.com
Photo Gallery
Related Web Results
Dirt Candy
Soup Dumpling_small.jpeg. Radish_small.jpeg. Mushroom copy.jpg. Peking Peas_small 2.jpeg. 86 Allen Street, NY, NY – 212-228-7732. Dinner Menu.
Dinner Menu – Dirt Candy
Every week, in the spring and summer, our forager heads into the fields, woods, and mountains of New York and New Jersey to find the freshest and most …
Reservations – Dirt Candy
… unfortunately we can't guarantee we'll be able to provide you with an alternate menu. Contact 212-228-7732 86 Allen Street NYC, NY 10002
Reviews
Sabrina Lingenfelter
I came here as a vegetarian with my meat eater boyfriend and we both had a wonderful time! First off the staff was so friendly and helpful. They wanted to help you understand the dishes and wines we were getting and everyone of them spent time with us rather than putting down a plate then rushing off. We got the wine pairing with our dinner and it was also well worth it! I loved how we got a story of the wine maker with each glass too. As for the food? Phenomenal! I love vegetables to begin with my boyfriend is much more picky. He is not a fan of carrots or celery but the dishes that has them here blew his mind they could make them taste so good. We came here as an anniversary treat but have decided we must come back every season to try the new menu. This place is a gem!
… more
Sean C. Koop
Dirt Candy is one of the best, or maybe even the best vegetarian / vegan place for me.
… more
Sharon Fehrmann
I went to this restaurant twice on my recent solo NYC trip and I had such a nice experience. I really appreciate that they accept reservations for one and they made me feel very welcome. Dirt Candy has a welcoming and visually stunning décor, is very clean and a has a very relaxing and fun atmosphere. The food was so creative and delicious! They have a way to put vegetables in everything and have it taste amazing. Even the dessert! Will definitely go again on my next trip to NYC. Thank you!
… more
John-Luke Sahlani
Great vegetarian meal. We had the fixed 5 course dinner with the wine pairing option. All of the wine pairings were very unique and complimented the food well. At some point I lost track and over-served myself, but not a bad problem to have. The food was fantastic and you could tell that a lot of thought went into each course.
… more
Lucas Steele
Absolutely stunning experience. Innovative, bold dishes. The kitchen stands behind their menu with pride, they want to make you happy and let you taste something incredible. The fall menu was splendid. We got special treats from the kitchen as well, gummy bears, a carrot pizza and pickled beets. Inviting atmosphere and extremely friendly staff. Awesome. Amanda Cohen rocks.
… more
C.F
Great vegetarian and vegan restaurant. The food as well as the cocktails were very unique and wonderful. Tipping is included in the price, so I think this great service is very reasonable. The course seems to change depending on the season, so I want to go to another season.
… more
Chael MacKinnon
We went here for our anniversary and honestly couldn't have asked for a better experience. It truly was an "experience."
… more
James Nicholson
It was a really wonderful experience!Great staff and service, wonderful ambiance and THE FOOD! The creativity to make already wonderful veggies taste so extra delicious while making it look so beautiful is really special! Regardless of diet style, it's fantastic!
… more
Cookie
Amazing vegetarian menu. Each course Is a work of art. Creative cocktails first Dinner was beautiful $90 all in we added the natural wine pairing well worth the $50 lovely variety of wines
… more
Annie Jahraus
Such a wonderful experience! The food was fabulous—even my husband, who hates vegetables, enjoyed a few of the courses. Thank you to our server, Olivia, for giving such spectacular service and making this night memorable.
… more
… View more