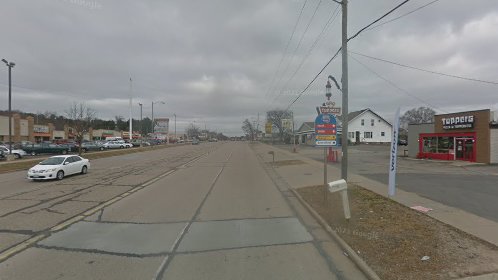 Related Web Results
SmokeHouse Barbeque – Home | Facebook
SmokeHouse Barbeque, Stevens Point, Wisconsin. 2292 likes · 41 talking about this. "You Don't Need Teef to Eat My Beef!" A BBQ food truck providing a…
Reviews
Annie Weyerts
My Husband and I went Friday night and I had the Smoked Rib Tips with Maple BBQ sauce and beans, cornbread and a sweet tea the combo box. Husband and I ate it in the car. He had the pulled brisket, coleslaw. When I got home about a hour or so later I puked for the next 4 hours until it was all out of me! Then recovered. Not sure but the meat was not really hot on mine. My husband did not get sick. I was so excited to have BBQ in Point but no thanks.
… more
hotdogg689 W
I ate last week found the food to be some of the best barbeque I have ever had. The rib tip box was incredible. My only problem was the issue of when they are open. I wanted to eat there again this last Saturday, the sign says they are open till 3:00 am. I was there and 1:30am and found them closed. I hope they will have some one there the next time I arrive at that hour or change their availability.
… more
David Stage
Rib tips were good. Brisket was a sandwich, kinda sucked. Cornbread was super dry. Saw the employee lick his fingers after getting my sandwich, pretty gross since I didn't see him was his hands, before or after. Sides were ok. I wouldn't go back.
… more
Miranda Reinhart
I've eaten here a few times since it has opened. I enjoy the brisket and chicken and the cornbread is great. The mac and cheese isn't great, it reminds me of KFC's mac and cheese. I haven't had a chance to try the ribs yet, but I expect them to be good.
… more
Angie Hig
Fast and courteous service. The drive thru was a little hard to go thru with my van . I got the brisket basket with coleslaw. I tried a bite without sauce first.The meat on the sandwich was flavorful even with out sauce and not dry . I got the spicy sauce i poured some on but it wasnt spicy. My 8yr old had some and also said it wasnt spicy. Only bad part was It was a little small for the price and the bun was kinda hard.
… more
Leah Blumberg
This is the second time we've ordered from this place. The food has been great. The first time the owner was going from business to business to promote himself. He was personable, fast, and efficient. This most recent time however, was rude, unprofessional, inefficient, and rather disgusting. The owner was not on, when we went to order this most recent time. There was one guy on and we stood there for a while waiting for our order to be taken. During this time, a car drives up, orders, the guy is getting everything ready for the car. He gives the them their food and the car drives away. Thinking that we're next we stand there for a little bit. Meanwhile, this guy is counting money and tips, and really standing around doing nothing. So my boyfriend walks around to the drive-thru to get us some service. We order and walk back to our place. We start unpacking our food only to find the guy had not given us what we ordered. None of the extra cornbread, nor any of the correct sauces and to top it all off he had given us the wrong food. Okay, at this point we are hungry and a little irritated, so my boyfriend goes back to get us the correct food. The guy opens everything up and starts to touch our sandwiches with his BARE hands and hands it back saying he did not make a mistake. In the end we did get the correct sauces and extra cornbread we asked for originally. But we were stuck with the incorrect sandwiches which the guy had then touched without any gloves. Not okay.
… more
Howard Hayakawa
Rib tips & pulled pork were great. Regular sauce & horseradish sauce were tasty. We'll be back. Watch closely as you approach. It's small and easy to miss.
… more
Amber Michur
I admit that I can't attest to the food itself, but the service is left severely lacking IF they are even open. We wanted to order for our office for lunch, and when we tried calling there was no answer. When I went to the drive through at 2:15pm (where hours posted said open at noon) I was greeted by a man who informed me that the food would not be ready until 3 or 3:30pm because he "had stuff last night and didn't feel like opening at noon". This is a place that we have been wanting to try for some time and as it had been closed the last two months we had been looking forward to it. It is also the second time we have wanted to get lunch from this place only to find it inexplicably closed. Simply put, we will not be ordering from this place in the future.
… more
Taryn King
Very friendly service! Delicious, tender food, and prepared as fresh as can be! There were also so many options for sauces and ways of cooking, you couldn't go wrong! Definitely worth the price.
… more
Brenda Coker
Amazing food. Husband and I just had bbq for dinner. Was absoluely wonderful. Sides were also excellent. Good prices also. Looking forward to next time.
… more
… View more